Welcome to the Timberland Invasives Partnership (TIP) Website!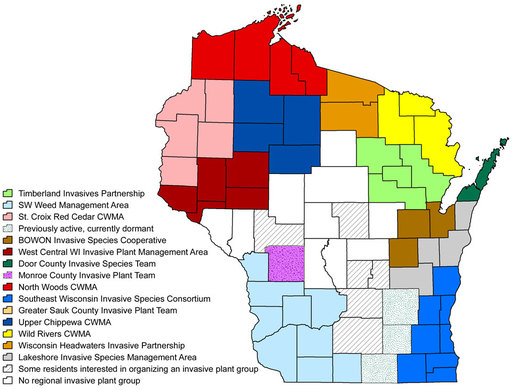 The Timberland Invasives Partnership (TIP) is a partnership between federal, tribal, state, and local government organizations that serves to symbolize & solidify their commitment to work together across jurisdictional boundaries to eliminate invasive species.
Our Cooperative Invasive Species Management Area (CISMA) serves the lands and waters within the Langlade, Menominee Oconto, & Shawano county borders.
More information on CISMA's can be found
here
.
---
How We Can Help
TIP can offer a variety of invasive species related services. These services including advice, species identification, conducting trainings & presentations, and reporting invasive species to the proper individuals.

If you are interested in any of these services please use the contact information at the bottom of the page.


Announcements
Career Opportunities:
TIP Coordinator- The Coordinator oversees invasive species control efforts throughout the four county TIP area, implementing management goals set by the Steering Committee. This is accomplished through a multi-facet approach including capacity building efforts, public awareness/education, population control and monitoring, native habitat restoration, and grant writing/tracking. The coordinator serves as the primary public representative of TIP. The position is open until 4/27/2018. Below is a downloadable PDF of the position description or you can follow the
link
to the Lumberjack RC&D website and look under announcements on the homepage.
​